From its humble beginnings in 1938, Midwest Radio Network has grown to be a global player in online news media while maintaining its root involvement in regional broadcasting.
Company History
Midwest Radio Network Pty Ltd was incorporated by Western Newspapers Pty Ltd in Sydney, New South Wales, Australia on 22 April 1938 under the name Lithgow Broadcasters Pty Ltd to establish a radio station in Lithgow, a coal mining city west of Sydney in midwest New South Wales. Radio 2LT was launched in 1938. The station was operated in its early years as part of the national Macquarie radio network. The shares in the licensee company were later acquired by the Transcontinental Broadcasting Corporation Limited, principally owned by the McCauley family and for a short time by interests associated with Broadcast Investments Limited (then owner of the 2UE radio network) which in mid-1979 acquired the Transcontinental network .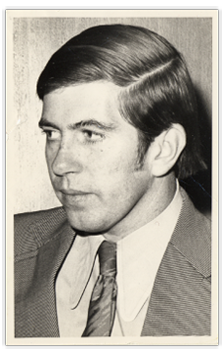 In late-1979 the shares in Lithgow Broadcasters Pty Ltd were transferred to interests associated with the Metro Hotels group, principally John McEvoy (pictured at the time of the takeover) which have retained them to this day. The company's name was changed to Midwest Radio Network Pty Ltd on 21 June 1984.
In 1986 a new company Midwest Radio Limited was established on the Sydney Stock Exchange with Midwest Radio Network Pty Ltd owning around half the shares. In the late 1980s and early 1990s Midwest Radio Limited ventured into New Zealand acquiring interests in regional radio networks but these were disposed of in the wake of the recession of around that time. The company dabbled in regional newspapers in Queensland but that venture was unsuccessful. In the late 1990s the company negotiated agreements with the UAE, Bahrain and Qatar governments to develop a network of FM broadcasting stations in Dubai, Abu Dhabi, Bahrain and Doha but for various reasons the company did not proceed down this path. In 2000 the public company (Midwest Radio Limited) was taken over by a Brisbane-based group which was involved in a joint venture with Rural Press in a regional radio network in South Australia, and held interests in advertising agencies in Sydney and Brisbane. The public company was renamed Media Corporation Australia Limited. While Midwest Radio Network retained a minority interest in the larger company, it was in the order of about 5%, and its principals and directors played no further part in that company. Within a year Media Corporation Australia Limited was taken out of its South Australian radio involvement by Rural Press, its advertising agencies failed and its involvement in newspapers which had expanded came to grief due to a variety of circumstances. At the request of Media Corporation Australia's directors in March 2006 Midwest Radio Network appointed a receiver to secure the radio station assets which were subject to a charge by Midwest which had loan funds owing to it from the time of its involvement, responsibility for which had passed to the new owners of the public company. After nearly four years of receivership and an unsuccessful attempt to sell the assets, Midwest Radio Limited terminated the receivership in January 2010 and took possession of the radio station assets in a Controller role.
In recent years Midwest Radio Network has operated the eNewspaper division of Big News Network, a directory of newspaper format online news portals which until 2012 operated independently. That year they were brought in under the Big News Network umbrella as part of its evolution which began in 1998. The company acquired land in Port Macquarie, on the New South Wales North Coast in 1981, and in more recent years has acquired interests in land in Geraldton, on the West Australian coast. The company today is largely a management services and holding company with oversight of the eNewspaper sites and provision of IT services to Big News Network for which it receives a fee, and the radio station assets from which it does not draw any income. Its land investments are non-income producing, so the company is not a significant trading entity.